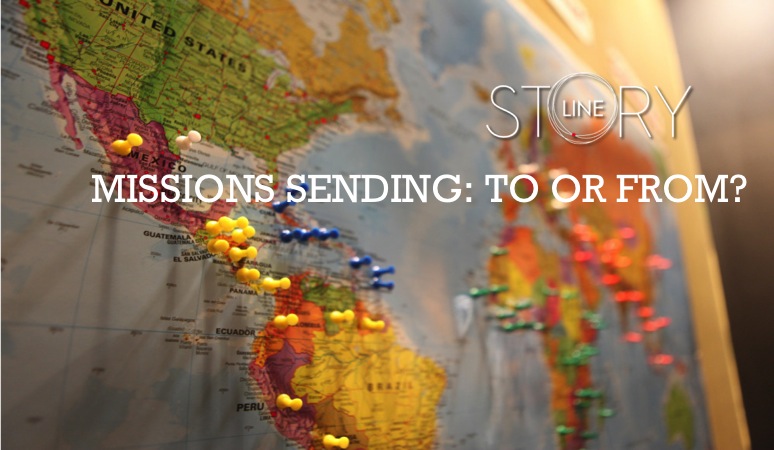 15 Oct

Mission Pins on a Map – To or From?

In many churches across the United States, down a hallway with a flickering fluorescent light overhead, hangs a mission's map on the wall. Usually this map represents support and prayer for places around the world where the church is connected in missions.
Pins for the Sent
Usually each pin on the map represents a missionary, or mission team, sent out by the American church. Each pin represents people being sent to a place and a people. For two hundred years, since the beginning of Western missions started by Willaim Carey in England, we have been sending Western missionaries TO the mission field.
Pins for Sending
A new global mission force is emerging. In the last several decades God has been up to something in the global church. The pins that used to represent missionaries being sent are soon to represent missionary sending FROM! This means the mission fields of the past are now becoming the missionary force of the future. The church in Africa, Asia, Latin & South America, and Eastern Europe will be the new missionaries.
Serving this New Reality?
How can the Western church, that still cares about missions, serve in this new reality? We can begin to dialogue with the global church about their vision, willingness, and emerging role in missions. One of the greatest needs we are discovering at Storyline is that these churches don't have adequate sending structures. If someone wanted to be a missionary, or church planter, in a foreign country there is no application, no agency to support them, no training on best practices, and no team development for  building healthy relationships on a mission's team. The opportunity exists to help these newly forming mission agencies develop their systems and practices for casting vision, processing qualified candidates, and sending equipped teams into the mission's field.
Pins on Your Map
What do the pins on the map at your church represent? Those being sent TO or those who we are sending FROM? Maybe the new metric for Western church isn't how many pins on the map represent people we sent people TO but it is how many pins on the map we have helped send FROM.
— Kirby Holmes, Director of Slavic Partnerships