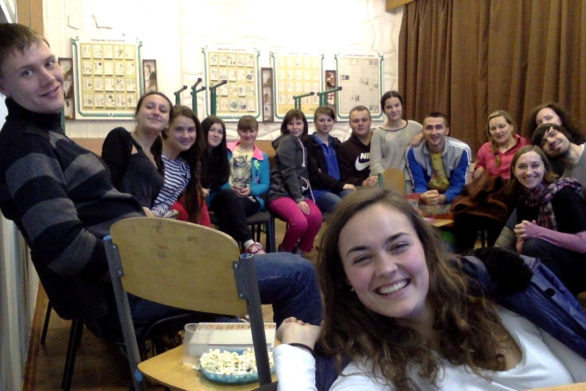 22 Dec

Film Festival Outreach in Rivne, Ukraine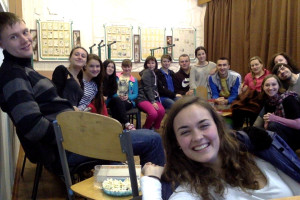 Stop and Think Eternal
My dear brothers and sisters, I would like to share with you what God has done in Rivne this semester through the evangelism project #TIMEOUTRIVNE . Since the project started in October we conducted 12 big meetings for non-believers in dormitories and the church. Overall there were 165 people present at our meetings. 79 of them would like to speak about spiritual topics and 38 of them have heard the good news about Jesus!!! It was amazing how different it was from place to place but everywhere we went there was a person interested in knowing more about God.
My Dream has Literally Come True!!!
After we conducted three meetings at the dormitory of MEGU (International Economic and Humanitarian University) I invited people who were interested to the small group! There were 10 people who came. We read the Bible together trying to explain to them that they can not earn salvation by their works but as a gift of grace from God through Christ (Gal.2:8,9). After I finished we sang and talked. I asked if they would like to attend ongoing Bible studies and they were so open and interested. They even tried to convince us to do it more than once a week! I was so amazed by their desire to know more about God! I came home and I understood that this was something I was praying for quite a long time and now God has blessed me to share the Word of God with non-believers!!! Please pray for these student's salvation and for open entrance into their dormitory!
This is Tanya Melenchuk.
She visited the first meeting in MEGU. She did not hear the Gospel message we presented during our third meeting but she came to the first Bible study. She was the most interested and the most open. She asked to come with us to a different dormitory and she heard the Gospel there, together with her friend. She also came to my Bible study this Tuesday and she shared that since she met us she has started to change inside. She said that even her mother noticed the changes. She shared that she realized that she needs to read the Bible and she even prayed for another girl during a Bible study! Praise the Lord! I am amazed of the work of God in the hearts of people. We have not said or done anything special to her but the Spirit of the Lord has been working in her heart! Please pray for her salvation and salvation of her friend Tonya!!!
Blog post written by Margarita Besedyuk from Rivne, Ukraine. Margarita, and her husband Kostya, are affiliate staff for Storyline who are helping us accelerate missionary sending from the Ukrainian church.