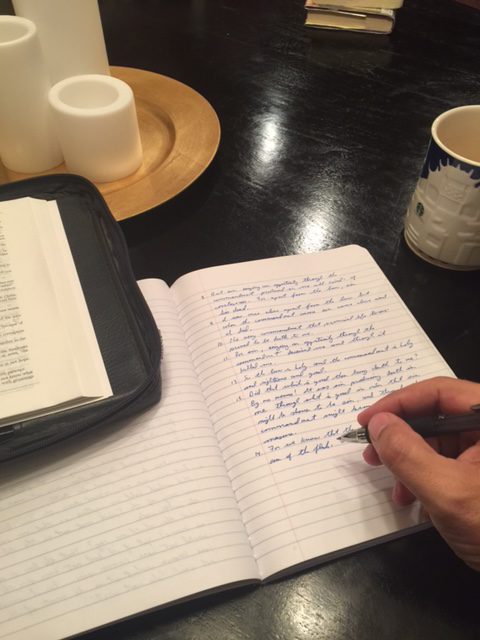 03 Oct

The 30-Day Challenge: Encountering the Missionary Heart of God

The 30-Day Challenge: Encountering the Missionary Heart of God

During the summer of 2017 Kristen and I were challenged to read the book of Romans 20 times and then write out the entire book by hand. This occurred at a family camp in Montana in the company of pastor Scott Gilchrist from Southwest Bible Church in Beaverton, Oregon. To be honest, I initially felt that this challenge was tedious, unnecessary and overkill. But, something in our spirits was yearning for a deeper experience with God's Word. We decided to take the challenge. Since then, we've been enjoying the Scriptures in ways we had not thought possible before. This simple practice had caused us to go deeper than ever before and to slow down and meditate upon God's Word in a refreshing new way.

It is no wonder then that God prescribed this practice for the Kings of Israel. "And when he sits on the throne of his kingdom, he shall write for himself in a book a copy of this law, approved by the Levitical priests. And it shall be with him, and he shall read in it all the days of his life, that he may learn to fear the LORD his God by keeping all the words of this law and these statutes, and doing them," (Deuteronomy 17:18-19).

I'd like to offer this method as a way to press us ever deeper into an encounter with the missionary heart of God. From Genesis to Revelation the Scriptures reveal that God is a missionary, and his heart is for the redemption of the nations. Most people are familiar with only one or two verses regarding the Great Commission, but there are so many more.

The challenge I offer is for anyone who 1) hungers for a deeper experience with God's Word, 2) desires to understand and saturate their hearts and minds in key Scripture pertaining to God's missionary heart, and 3) wants to develop a more biblically based missiology. May you be blessed as you read and copy these verses over the next 30 days. I know that God will speak to you.

Suggestions:
Get a brand new notebook and a good writing pen
Copy the verses below in order into your notebook
Over the next 20-30 days read the verses, in order and in one sitting, 20 times.
In a Journal, or in prayer, talk with the Lord about your discoveries
Enjoy God and his heart to see people everywhere redeemed!

20 Verses on God's Missionary Heart (From Genesis to Revelation)
Genesis 12:1-4
Genesis 18:18
Genesis 22:17-18
Genesis 26:2-4
Genesis 28:13-14
Matthew 8:11
Deuteronomy 4:5-6
1 Samuel 17:46-47
Psalm 67
Isaiah 53
Luke 2:30-32
Matthew 24:14
Matthew 28:18-20
Mark 16:15
Luke 24:44-49
Acts 1:8
Romans 3:21-28
Galatians 3:8
Romans 15:20
Revelation 5:9-14